Relievers are volatile. Incredibly volatile. So when the Blue Jays acquired Jason Grilli from the Atlanta Braves on on May 31st, the team and their fans were optimistic that despite his rough start to 2016, the Grilli of years past would be the one to show up north of the border. At the time of the trade, Grilli had a 5.29 ERA in 17 innings for Atlanta. The cause of that was well documented, as for some reason, he was walking 16.1% of the batters he was facing. However, he was still striking batters out, and according to Blue Jays GM Ross Atkins, that's why they were attracted to him.
GM Ross Atkins says #BlueJays attracted to Jason Grilli's experience and swing and miss (12.2 K9).

— Shi Davidi (@ShiDavidi) May 31, 2016
Since the trade, Grilli has stopped walking batters at an astronomical rate. His career BB% is 9.7%. With the Blue Jays, it's at 9.4%. This has lead to a dramatic increase in performance to the tune of a 1.99 ERA with the club. It's easy to point to his walk rate and say, 'okay, that's why he's turned it around'. Which is fine. It's not wrong. However, I'd like to know why he was struggling early on in the year, and what adjustments he has made, knowingly or unknowingly, to be able to be pitching like he has throughout he rest of his career again.
To do that, let's start by looking at his pitch usage. In 2016, a clear pattern has emerged since joining the Blue Jays. Examine the black and red lines.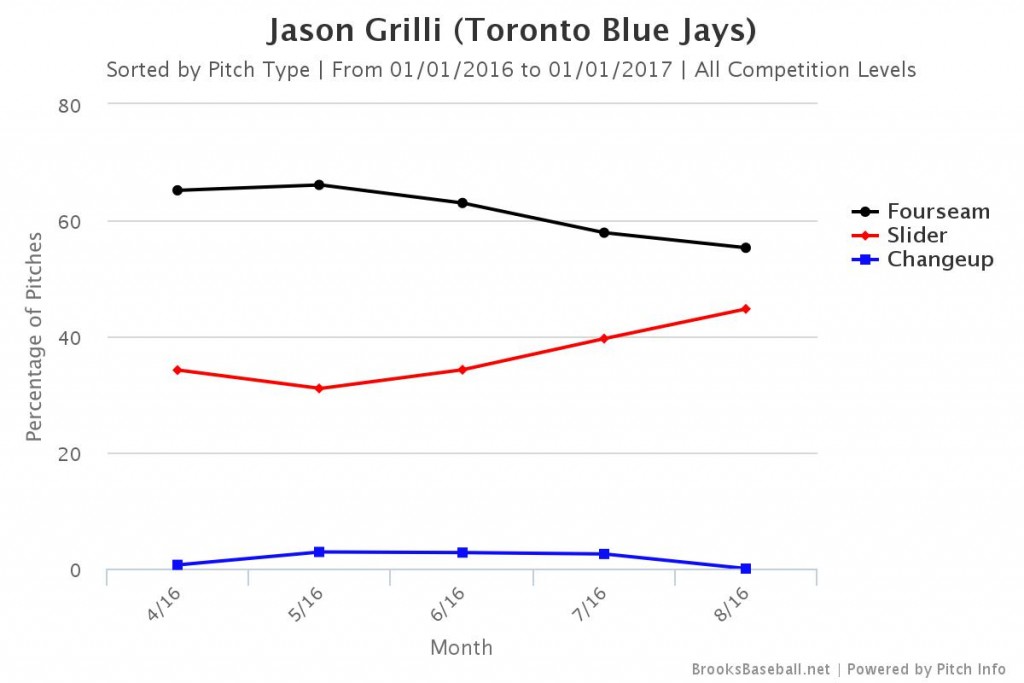 His four seam fastball usage has taken a downward turn, going from a high of 66.09% in May to 55.26% in August thus far, a drop of almost 11 percentage points. The opposite trend has occurred with his slider, going from a low of 31.03% in May to 44.74% in August. This is significant for a couple of reasons, none more important than when a pitcher of Grilli's composition becomes too reliant on one pitch, it allows players to focus in on hitting just that specific pitch. This means that they can lay off anything they don't like, say, Grilli's other pitch, his slider. Sliders aren't usually thrown for strikes, but rather as weapons to get hitters to chase out of the strike zone. If batters are not going after them as a result of focusing on the fastball, sliders become relatively useless, and this can lead to elevated walk totals.
However, pointing to that and saying it is the direct reason for Grilli's run of success would be quite foolish given that he has been an All-Star in past years while throwing his fastball at an even higher rate than 66.09%. But it becomes more believable after seeing two more sets of numbers. The first is the movement he has received on his slider in 2016. Look at the red line.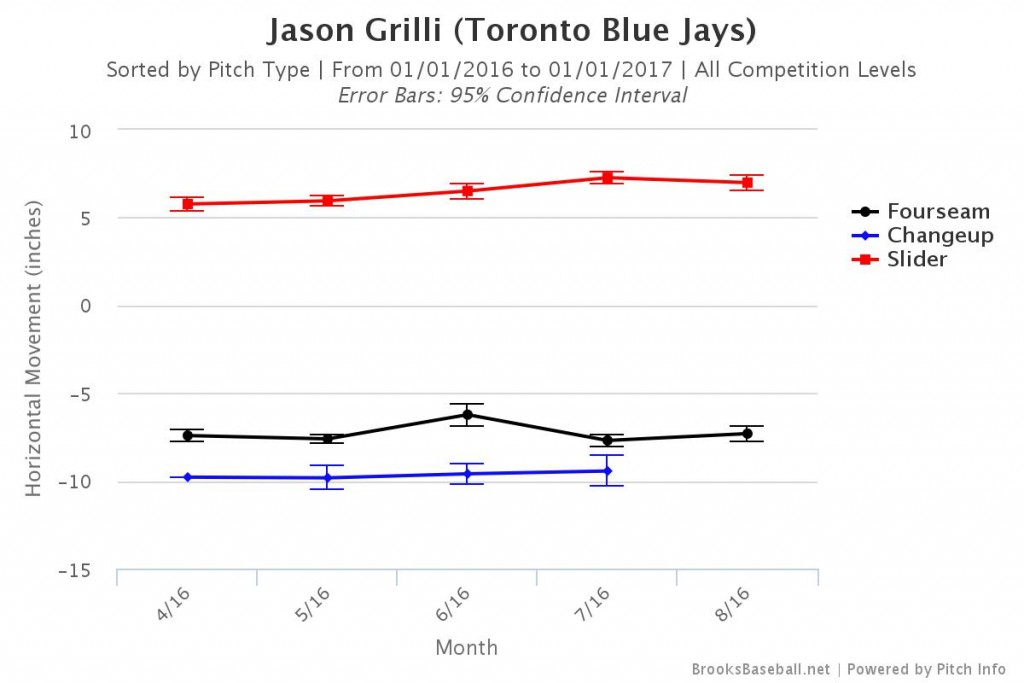 In April and May, Grilli's slider was moving horizontally at an average of 5.77 inches and 5.95 inches respectively. Since then, those numbers have been 6.51, 7.27, and 6.99. Interestingly enough, batters swung at just 26.8% of his pitches that were outside the zone this season with the Braves. League average O-Swing% is 30%. With the Blue Jays, batters are swinging at 34.7% of them. That's a change of 7.9 percentage points. See where I'm going with this?
While he was with Atlanta, he was throwing his fastball a lot more and his slider a lot less. That meant batters could focus on the fastball. When they were thrown sliders, they weren't moving as much as Grilli's normally do, so the batters didn't have the same incentive to chase. This is reflected in the decrease in O-Swing%. Then, Grilli came to Toronto. His slider started sliding more, and he changed up his pitch selection to throw fewer fastballs and more sliders. This has resulted in batters swinging more often at his pitches outside of the zone, and with it, his walk numbers have come back down to earth where they have been throughout his career.
Grilli was acquired on May 31st for a minor leaguer name Sean Ratcliffe. A month later, Ratcliffe was out of professional baseball. For comparisons sake, trading for Andrew Miller, who has an extra year of control relative to Grilli, required the Cleveland baseball team to part with four prospects, highlighted by uber-prospects Clint Frazier and Justus Sheffield. Now, Grilli isn't Miller, but this just goes to show how smart and tactful of a move trading for Grilli was by Mark Shapiro and Ross Atkins. Instead of trading for a dominant relief pitcher commanding a top price, they trusted their scouting and analytics departments, and traded for a pitcher who they deemed an easy fix. As previously mentioned, Grilli has a 1.99 ERA with the Blue Jays. Miller is at 1.65 in 2016. That's pretty good value for the Blue Jays.
Jason Grilli has been talented all season long. However, for a couple of reasons, he was terrible to start the season with Atlanta, and has been great ever since coming over to Toronto. Has luck been involved? Sure. Has standard regression to the mean been involved? Sure. But behind those two general statements are the real changes we were able to point to and connect to his struggles. The baseball season is a grind, and players fluctuate in performance all the time. Apparently, all it takes to get back on track is an inch here and there and adding a few more sliders. Who knew?
We'll end with this Jason Grilli fist pump GIF, because even if you didn't enjoy this article, I want you to leave happy.
That's a man on a mission.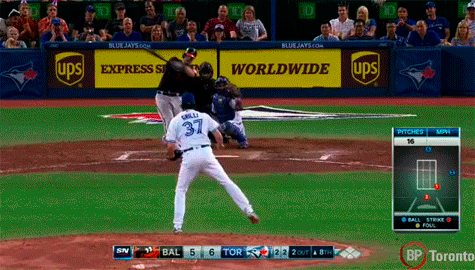 Lead Photo: Kevin Sousa-USA TODAY Sports
All stats as of Wednesday August 10th.