This (One At-Bat) is a sort of regular feature at BP Toronto, and in that vein, I like to explain it in the preamble just in case this is your first time seeing it. What we do here is take just one plate appearance from the last little while and go through it pitch by pitch. This is an effort to examine the game within the game of baseball, that one on one challenge between hitter and pitcher. Now that you know what we're all about here…. let's get to the main event.
This OAB is from July 26th, 2016, in the bottom of the 12th inning. The San Diego Padres are paying a visit to your Toronto Blue Jays. Carlos Villanueva is in the game for the Padres, and with runners on second and third, Devon Travis is trying to keep the line moving. The Jays, you see, have just allowed two runs to score in the top of the 12th, and with one out in the bottom of the inning, they are really running short on opportunities for a comeback. Now, if you are a regular fan of One At-Bat, you will note that my last edition also featured Devon Travis, in Boston, where he worked an 11 pitch marathon in to a home run off of Koji Uehara. Believe it or not, we're about to kick it up a notch.
The Setup:
Carlos Villanueva, once upon a time, was a Blue Jay swing man/starter. He hasn't started a game since 2015, but had a decent year out of the Cardinals bullpen in 2015. He throws "slop". He has five pitches, none of them averaging over 89 MPH, and gets by with good control and whatever else a 33 year old pitcher can learn after 10 years in the big leagues. His HR/flyball ratio was a tidy 9.1% in 2015, in 2016 it's 21.7%, which is downright awful. In fact, when looking at pitchers with 50IP or more in 2016, Carlos is the 6th worst at allowing the long ball.
In his sophmore season, Devon Travis continues to be a beautiful man to watch at the plate. Rushed back to the majors after recovering from a shoulder injury last season, (Tulowitzki's injury creating a gap in the infield for him to fill), Devon sturggled through May to a .490 OPS. Then he found his form, with .865, .765, and 1.085 in each month since. His spray chart is a master class in using the whole field.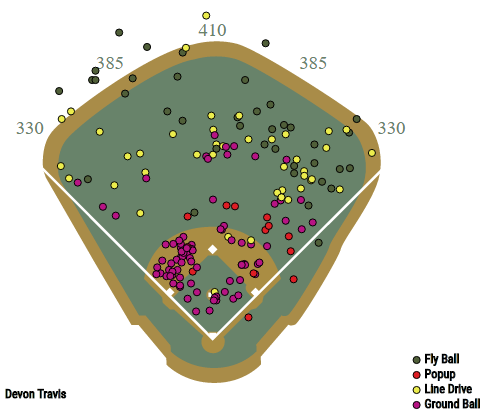 His Baseball Savant page has so much more, but see those yellow line drives? Literally spread from one foul line to the other, and some real power if his timing is good enough and he pulls one. Travis is about to really, really be tested for his ability to put his bat on the ball.
The Sequence:
Pitch One: The At-Bat Starts of innocuously enough, with a slider right on the low outside corner called as a ball. Pitch f/x says the ball is on the black but that's a bit of a coin flip. Robot umpires still haven't arrived for those ones to be called consistently.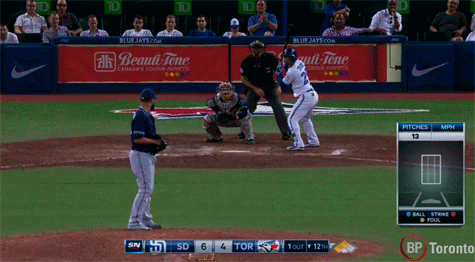 Pitch Two: This is another slider, located higher up and catching more of the plate, Travis takes a cut and fouls it off, 1-1.
Pitch Three: We have our first fastball, right underneath where the second pitch was, and Travis takes it. The count is 1-2. Travis strikes out 38.5% of the time after a 1-2 count, but he is hitting a remarkably high .320/.346/.653 in these situations. To grab a comparison at random, in his 2015 MVP year, Josh Donaldson hit .232/.314/.412 after a 1-2 count…. so it would seem that Travis really isn't bothered in the least by being behind in the count.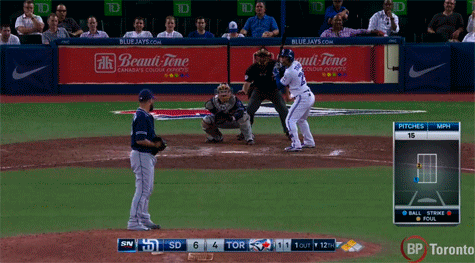 Pitch Four: This is a big one. Pitch four is another slider. It is exactly where Villanueva wants it, right on the outside black, and a couple of inches above where pitch one was. There is a pause when Devon gives up on it and all of the Padres wait for the strike three call. It doesn't come, and Carlos has to reset and deliver pitch number five.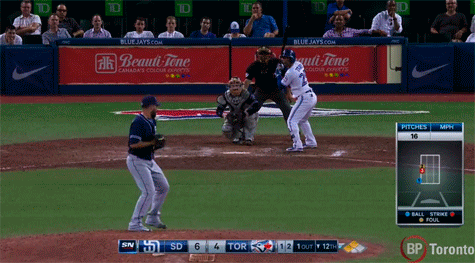 Pitch Five: Now we've managed to get the preliminary pitches out of the way, the real battle can begin. Pitch five is another slider, bounced in the dirt to run the count full.
Pitch Six: Now Carlos switches back to the fastball, high in the zone. Travis is not intimidated or caught off guard. He fouls it off.
Pitch Seven: Another fastball in the middle of the zone, another foul.
Pitch Eight: where Villanueva decides to try to catch Travis cheating a little bit. He throws a changeup, still in the zone, but the pitch doesn't work as inteneded, possibly not thrown soft enough for Travis to be out front. He fouls it off too.
At his point, Carlos has used three different pitches, and peppered the zone middle-away with pretty much the same results all the time. Travis is, at least to all appearances, focused in on the outer half of the plate, looking for something he can do more with that just fend off. As with his at bat against Koji, Devon's timing has slowly been getting better as the pitches have piled up.
Pitch Nine: We get another slider, and this one comes right in the front door, underneath Devon's hands. He makes a magnificent adjustment while trying to save himself and fouls the ball off.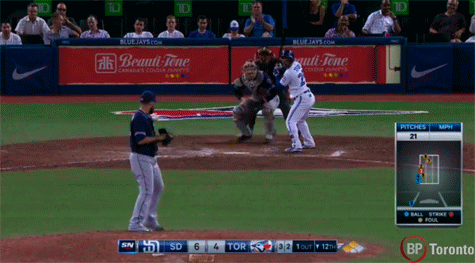 So there it is, nine pitches in, and Carlos Villanueva finally got his hitter to chase a ball out of the zone. Unfortunately for him, he's not any further ahead by doign so, and he's got to figure out what else to try 3-2.
Pitch Ten: Hanging slider, at the top of the zone, but Devon gets the bat under it a little too much and fouls if back.
Pitch Eleven: It's a 92 mph fastball right down the pipe, literally all the velocity Carlos has. Travis is behind it and fouls it to the right side.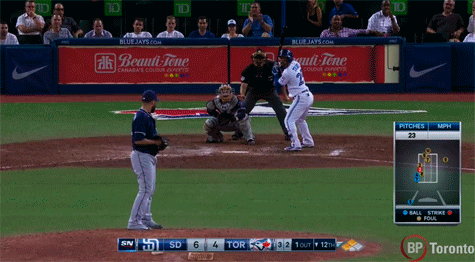 Pitch Twelve (Yes, Twelve): Another fastball, middle-low and Travis flares it to right again. If you're Devon Travis, at this point, you have to figure there are more fastballs in you future, but if you don't get it ready early enough, you're eventually going to miss one. Be ready. But don't be to aggressive and leave the zone for one. It's complicated.
Pitch Thirteen: Another fastball, and this time not only is Travis ready for it, but it's down and in, right where a right handed hitter can drop the bat head and pull it with power. Travis hits it about 350 feet and the crowd goes crazy… for a long foul ball.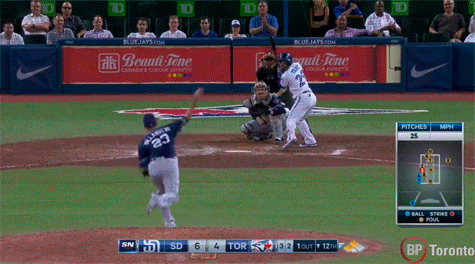 The Payoff:
Devon Travis has to be pretty amped up. He's been locked in one of the greatest head to head battles of his career. It's in extra innings, and his last swing came about 1/100th of a second from winning the game in an incredibly improbable fashion. However, none of that makes any difference if he isn't ready on the next pitch. Thirteen pitches in, nine foul balls, one called strike. One pitch chased outside of the zone. He's seen everything.
Pitch Fourteen: Villanueva chooses a changeup, a pitch that starts out it's life looking like a fastball, and ends by rolling off the table. Villanueva tries to throw an enticing one, looking for that very elusive swing and miss. Devon is not fooled, and the pitch bounces in front of the plate. Ball four.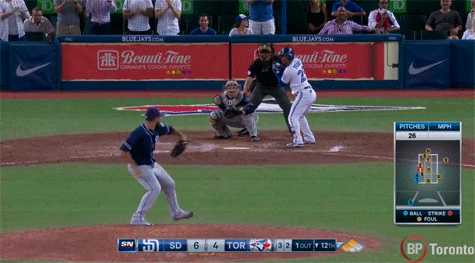 Yes, this One At-Bat isn't even an At-Bat, it only counts as a lowly Plate Appearance, but it was, as I mentioned on Twitter at the time, the hardest fought walk of 2016.
Now, that PA had a leverage index of 4.74, which is a higher stress situation than most games ever see, it also ratcheted up the weight of the next two plate appearances, giving them a 7.38 and 8.92 LI value. And, despite only a walk and a groundout to continue the inning, the Jays would still tally a victory, as Travis would score on, (of all things), a wild pitch from Paul Clemens. Maybe it would have been less painful for the Padres if that 13th pitch had just stayed fair and ended it then.
Lead image credit: Mark J. Rebilas-USA TODAY Sports