This post was written by our friend and colleague Rian Watt, who is the Editor in Chief at BP Wrigleyville. You can find him on Twitter here, or read more BP Wrigleyville posts here. 
Late last Saturday afternoon, I was standing in the corner of the visiting dugout at Fenway Park, trying to work out what to ask Roberto Osuna about. I knew what I wanted to ask him about—Jackie Bradley, for a feature I was writing for VICE Sports—but it's bad form to come up to a big-league player and only ask him about somebody else. Hell, it's bad form to do that to any person. So, fact was, I needed something to ask Osuna about.
A few taps of the thumb later, I had something…this:
The feature of this chart is that which is circled in green. The circle represents the decrease in Osuna's slider velocity between 2015 and the present; all told, the differential is about three miles per hour. I took it into my head to ask Osuna whether that change, which held steady across most of his 2016 starts, was conscious or not.
When I posed the question, he looked at me like I'd just asked him whether ketchup properly belongs on a hot dog. (The answer, for those of you who haven't yet made your way over to Chicago, is absolutely not.) "Yeah," he said, eyes wide, indicating that the slower speed was indeed a conscious choice, "because it's way better when it's 85, 86, or 87. It breaks better, and it has better movement." And sure enough, it does. Here's Osuna's vertical movement (+gravity) on the slider, over the last two years: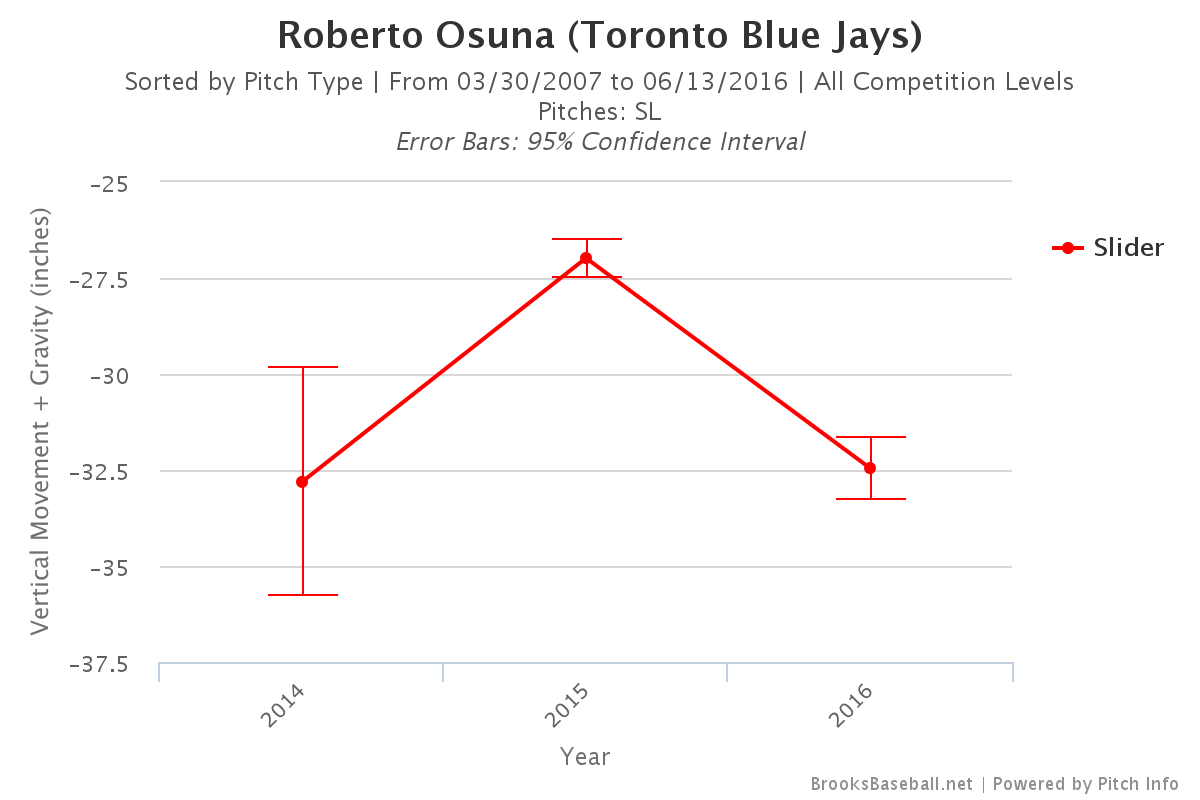 And here's his horizontal movement: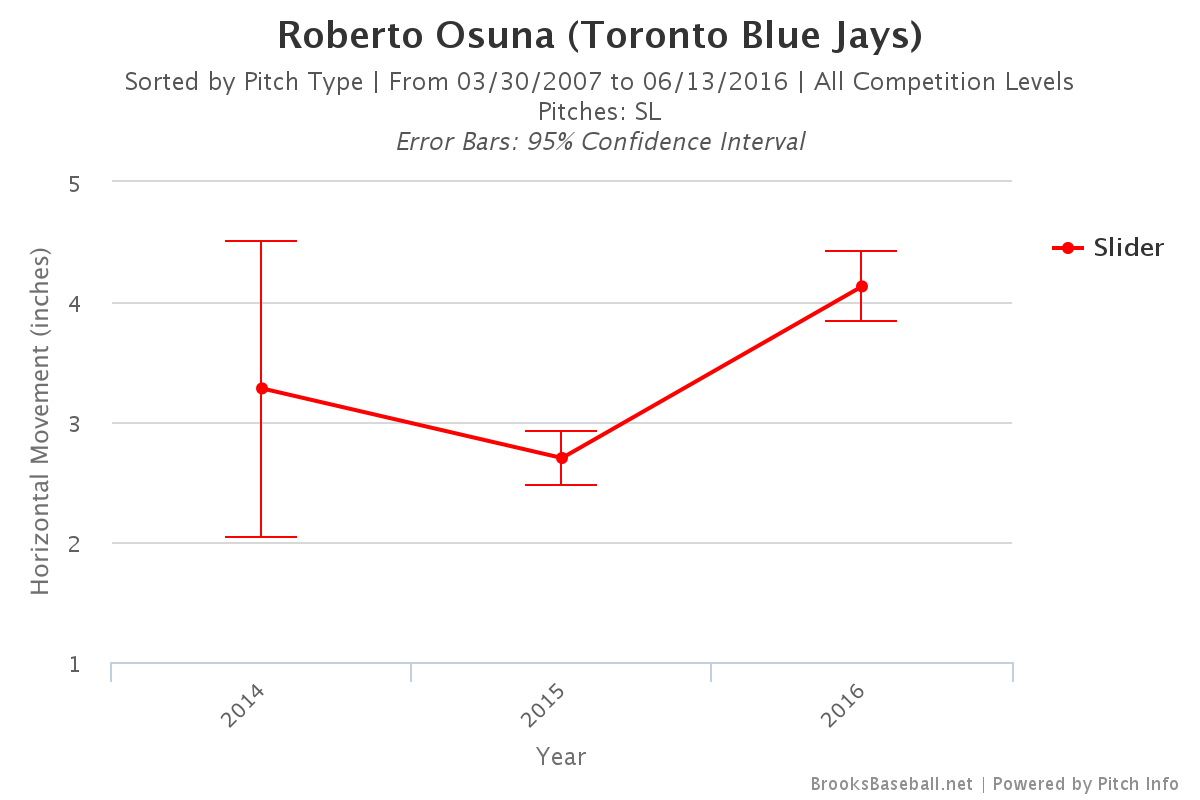 That's about 5.5 inches of #gainz vertically, and 1.5 horizontally. Or, in layman's terms, a lot. And it's having effects: hitters aren't whiffing against the pitch much more than they were before (26.0 percent last year, 25.8 percent this year), but when they make contact they are hitting fewer line drives (25 for every 100 balls in play, versus 27 last year), and way fewer fly balls (6/100 BIP this year versus 26/100 last year). In a year in which Osuna has been pretty transparently brilliant, the slider may be part of the reason why.
He's happy with it, too, and thinks the new, slower pitch, will have health benefits to go alongside its performance advantages. Delivering the pitch at a slower speed, he said, isn't about anything fancy, "just the extension, and when you extend to throw more slowly, you put less pressure on your arm. You'll still be at the same arm speed, just with a different extension." That makes sense. Here's Osuna delivering a slider in 2016:
And here he is throwing one in 2015: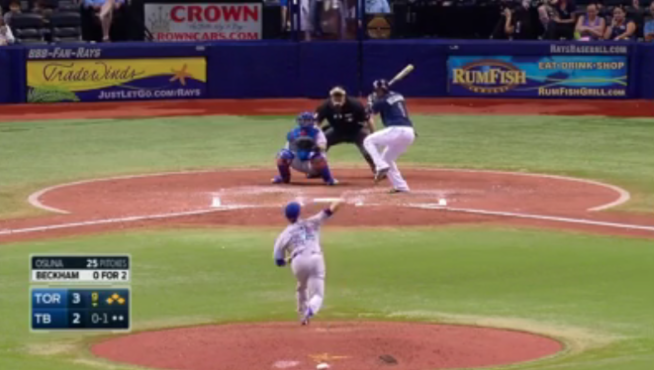 That's a fairly substantial difference. Point is, Osuna's changed something about how he throws his slider, and it seems to be having an effect. Still, Osuna isn't going to start throwing the pitch a majority of the time now. "The thing is," he told me, "when you have a fastball 96+, you want to go ahead with the best pitch [most of the time], which is the fastball, so you're going to use your breaking ball, and your change-up, only when you really need to, you don't have to over-use it, just when you have to throw it."
This year, when he has to throw a slider, Roberto Osuna is throwing a good one. But that was true last year, too. This year, he's throwing the pitch slower, on purpose, and by consequence he's throwing a better pitch than he did last year.
Lead Photo: Kevin Sousa-USA TODAY Sports