UPDATE:
Heading into the series against the LA Dodgers, the Blue Jays have made the right move, selecting the contract of Andy Burns and optioning Ryan Tepera. This leaves them with a true utility player who can hit lefties, and a proper seven-man bullpen with two left-handed pitchers. Look for Burns to get some time in LF in place of Saunders, or at 3B with Donaldson serving as DH to rest his legs.
With the move, the Blue Jays now have 39 players on their 40-man roster.
The Blue Jays made a roster move following Tuesday night's walk-off win against the Texas Rangers, sending Matt Dominguez back down to AAA Buffalo and recalling Chad Girodo to take his place.
#BlueJays option Matt Dominguez and recall LHP Chad Girodo from Buffalo

— Hazel Mae (@thehazelmae) May 4, 2016
Girodo was optioned on April 24th for Drew Hutchison's spot start, so today is the first day he was eligible to come back to the team after being away for 10 days. The move means the Blue Jays will now carry an eight man bullpen and go with a short, three-man bench. This would seem odd given that Michael Saunders and Russell Martin have both needed days off due to nagging injuries recently, but the move is likely only very temporary.
With Tuesday night's game going into extra innings, four members of the bullpen had to pitch. The Blue Jays are also currently in the midst of a stretch of 29 games in 30 days, so giving the bullpen a fresh arm can't hurt. Brett Cecil still looks like he isn't himself, so getting another lefty in the 'pen gives John Gibbons the option to use Girodo over Cecil against a tough lefty if he so chooses.
I don't expect the Blue Jays to keep a short bench for long, as after Wednesday night, they will be facing two lefties over their next four games. As such, they may want to send RHP Ryan Tepera down – keeping Girodo to provide LHP depth behind Cecil –  and recall a platoon partner for Justin Smoak at first base. The player who would most likely fit this role is Andy Burns, as he has a history of success against left handed pitching in the minors: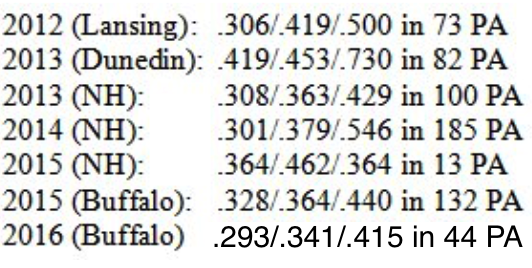 The other option would be Jesus Montero, who has hit .292/.341/.429 over his major league career against lefties, but those numbers are heavily skewed toward the first couple seasons of his career, where he showed promise, something he hasn't done recently. Burns is also very versatile, which would be of value to the Blue Jays with the aforementioned soreness plaguing Saunders and Martin.
The 25-year-old Girodo has pitched 8 2/3 innings for the Bisons in 2016, allowing just one run in the process. For the Blue Jays, he has pitched two scoreless innings in one appearance.
Dominguez, 26, reached base just once, via a walk, in his eight plate appearance with the Blue Jays.
Lead Photo: John E. Sokolowski-USA TODAY Sport